"
To promote sustainability and create a central location for the UBC student community.

"
In our hyper-consumerist society today, we are constantly obsessed with buying new and discarding old without a second thought. While this may appear harmless, it has a tremendous impact on the environment. At Project Imagine, we believe that there is a need to address this issue, especially as climate change becomes an increasingly pressing matter. It was from this strong belief, that we established Project Get Thrifty.
At its very core, Get Thrifty is a campus thrift store, that will not only address the high volume of discarded items on campus and raise climate change awareness, but also encourage students and faculty members to adopt a more sustainable and affordable lifestyle.
However, we're determined to make Get Thrifty more than just a thrift store. After taking a step back and looking at it from a broader perspective, we realized that we had the opportunity to create something that would address sustainability while also becoming a means of connecting the community together.
We want to create a thrift store that will help the environment while also acting as a central location that showcases student art/music and fosters partnerships between clubs.
In March 2019, Project imagine ran in the Alma Mater Society (AMS) referendum to raise support for our cause. We asked students the following question:
"Do you support the AMS establishing a refundable fee of $0.95, to contribute to the establishment of a permanent thrift store location on campus?"
We received overwhelming support, and with a majority of students voting "YES" for us, we successfully passed the AMS referendum.
Since then, Project Imagine has been working tirelessly alongside the student and university administration in actualizing our project. We have finally negotiated a location for the thrift store, and are now currently working on developing concrete plans and renovation designs! Look forward to seeing us in the basement of the Life building.
Get Thrifty team invites you to join us at our new home in the basement of the Life Building (RM 0016)! Find us across the hall from the ARC. We are also constantly accepting donations, so if you have any lightly-used items you wish to give a new home to, email us at (admin@projectimagine.ca) or find us on social media.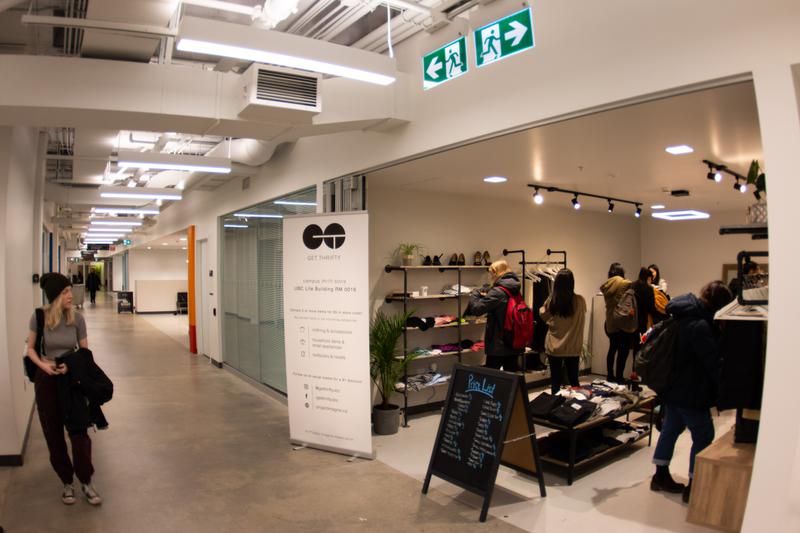 One year after 7,018 students voted in favour of a referenda question to establish a permanent thrift shop on campus, Get Thrifty officially opened in the Life Building on March 2.
The thrift shop project was spearheaded by Project Imagine, a student-run collective centred around sustainable community-based projects.
Project Imagine and Get Thrifty's Coordinator Rain Chen explained that after the referendum went through, they were able to hit the ground running in preparations.
"Prior to the referendum passing, it was just getting someone to listen to us and believe in us. And then when we realized that no one really would until you prove that you had money, … once the students voted with overwhelming support and we got that funding, people started listening to us to say the least," said Chen, who has been working to establish the store since 2017.
The first step was to decide on a location for the store. In the Life Building basement, Get Thrifty exists near kindred student initiatives like the Bike Kitchen and Sprouts.
The space they chose was, according to Chen, "[not] even a room … it was just an empty cavity."
Michael Kingsmill, the AMS's project manager and design services who helped oversee the project, explained the space's history.
"There's kind of a hidden catacomb that lies on the other side," Kingsmill said.
"Just for history sake, the space behind was intended to be the new foyer and entrance into the Norm Theatre. It was our desire way back when in the planning stages of the Life Building."
From gate installation, electrical routing, new lighting and drywalling, Kingsmill and the Get Thrifty team worked from the ground up to transform the abandoned foyer into a storefront.
"It's always nice in some ways when we're coming to the end. … [One] Sunday, there were others who I hadn't met that all of a sudden come and a little work party formed and they [were] all cleaning and doing things and you think this is what it's all about. You know, getting the students here and getting them all buzzed up … so that's very gratifying," he said.
"I think it's always a positive to be working with student groups on projects," added outgoing AMS VP Admin Cole Evans, whose office oversaw the project.
"As evident by the referendum but also throughout the year, we've seen that students are really enthusiastic about the potential of this project. So it's been really nice to be able to work on something that students are so excited about and that people want to see."
For the entirety of March, Get Thrifty is opened at reduced capacity on Mondays and Fridays from 11 a.m. to 3 p.m. in order to pilot test their operations.
"We have a partnership with Walter Gage [residence] right now where we will place donation bins in their waste sorting area and see what it's like to actually pick up from residences. There's a lot of logistics that actually go into it, including sanitization, pick-up delivery frequency, how to gauge the accuracy of donations," said Chen.
In terms of donations, Chen said they've noticed a lack of male clothing.
"We really want to encourage diversity in terms of ethnicity, gender, size, age, anything, but I feel like the kind of stuff we're getting in isn't as diverse and we can only work with what we receive. Really, I want to encourage everyone to just donate," Chen said.
"I don't care what you look like, I don't care what age you are, what size you are, just sign up to be a model with us. We are the platform to represent everyone [at UBC]… [as] the first thrift store by students for students."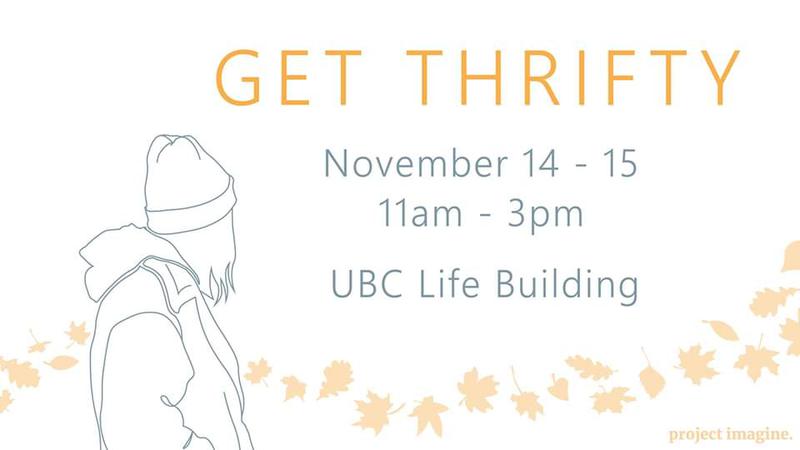 To all the students drowning in debt,
Are you tired of wearing the same two sweaters everyday?
Are the holes in your jeans not fashion anymore? (Yeah those $5 sewing kits are way too expensive and let's be honest, you'd rather just get one beer for that price.)
Is your Little Black Dress just little because your mom bought it for you when you were 15 and that was the last time you went shopping?
Fear not!
While we probably all need a Broke Students Anonymous, we can't really even afford the snacks for the event.. So, you'll have to settle for some thrifty life hacks!
I'm looking out for you and this is what you can do. Come for Project Imagine's 'Get Thrifty' event happening on campus in the Life Building from Thursday, 14 November to Friday, 15 November.
Stock up on those essentials. Get one more sweater or get some tank tops to spice things up! Everything is under $20! And you can get a store credit worth $5 for every three3 things you donate (up to $20). You can either donate during the monthly pop ups, or you can stop by room 1301 in the Life Building every Monday from 1 p.m. to 4 p.m.. So, please for the love of God get rid of the sweater you've been sporting since the first day of freshman year.
Oh and happy shopping to both you and the $10 in your bank account!